Report details how to create paid, full-time, yearlong residencies for aspiring teachers and principals, within existing budgets.
Better-prepared new teachers, more adults in every classroom, more small-group instruction, more adults caring for every student—how can a school wrap all that up in one package? Three Metropolitan Nashville Opportunity Culture schools are trying a novel approach with paid, yearlong student teaching positions. In a new case study, Public Impact examines this "aspiring teachers" program and its early implementation.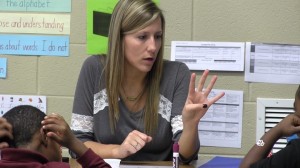 In 2013–14, the two elementary schools and a middle school, part of Nashville's Innovation Zone created to help high-need, low-performing schools, combined the aspiring teachers program with the Opportunity Culture Multi-Classroom Leadership model. Multi-Classroom Leadership extends the reach of excellent teachers and their teams to more students, for more pay, within budget. A multi-classroom leader, or MCL, leads a team of teachers while continuing to teach, helping the team teachers develop and excel through extensive co-planning, co-teaching, and feedback on the job. MCLs take accountability for the learning of all students in their "pods," and delegate responsibilities to teachers and paraprofessionals that make the best use of everyone's time.
How has the program, which pays student teachers nearly $15,800 and benefits—in a position that is usually unpaid—affected all the teachers on these teams? Aspiring teachers say they will enter their first teaching jobs, especially in high-need schools, much better prepared. Team teachers and MCLs working alongside them appreciate the assistance in the classroom and the quiet pressure to "up their game" even more. While MCLs are formally accountable for the whole team's outcomes, team teachers mentor the aspiring teachers, too, forcing them to think about the effectiveness of their own teaching methods.