How can schools begin to address all their students' individual learning needs? Blended learning is increasingly part of the answer schools consider—but what about a broader rethinking of how schools are organized and staffed?
At Public Impact, we've been working with the Clayton Christensen Institute to take a close look at eight schools/school networks around the country using innovative staffing models to personalize learning—district, charter, and private schools. We've just published the first of two sets of short profiles of these schools. The profiles, many with accompanying videos, show the challenges they aim to address and their early years of staffing innovations.
In the coming months, we will publish a second set of profiles and a white paper connecting the dots and analyzing the patterns of their experiences.
We focused on schools or school networks serving disadvantaged populations that achieved better-than-typical student learning and provided students with more personalized experiences while using new staffing models and blended learning.
The profiles released today:
At New York's Brooklyn Laboratory Charter Schools,  four teaching roles enable the school to personalize instruction and create a pathway for recruiting and developing teachers. The pipeline moves new teachers through a yearlong fellowship, then a two-year teacher residency, before allowing them to become subject-specializing lead teachers. Students alternate between class time with their teachers and small-group instruction with fellows. Another teaching role for learning specialists focuses on small-group instruction for struggling and advanced students, with an emphasis on special education certification.
In Las Vegas, Nevada, veteran district principal John Haynal oversees three Franchise schools within the Clark County School District, which all use the same main educator roles: subject-specialized lead teachers, certified temporary tutors who monitor online learning, and growth analysts who monitor student data and work with teachers to ensure student progress. This staffing arrangement allows strong teachers to reach more students, enables teachers to personalize students' learning through small-group instruction and adaptive software, and creates opportunities for teachers to advance and earn more pay within the franchise. Student groups rotate within the classroom, between online and small-group classroom centers, as well as rotating through a computer lab staffed by the tutors.
In San Jose, California, Cristo Rey, a Catholic school, focused its staffing innovations in math, using co-teachers, learning coaches, and volunteer tutors, all guiding students' use of online instruction aimed at letting students work independently at their own pace or in small groups.
In Gilroy and Hollister, California, Navigator Schools, a charter school management organization, uses three educator roles: subject-specializing teachers, the pipeline-building teachers-in-training, and small-group instructors. Each teacher focuses on two core subjects, reaching about 60 students a day by providing instruction to half the students at a time, twice a day. The teachers split that time between direct, whole-class instruction and small-group centers that they lead with small-group instructors, with teachers-in-training working alongside them.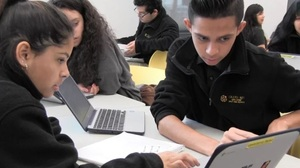 "In the traditional, one-size-fits-all school staffing model, too few students get the help they need. These first school profiles show that different really can be better. Both teachers and technology play critical roles in getting students the individualized support that they need," said Emily Ayscue Hassel, co-president of Public Impact.
"These profiles provide the field with some interesting examples of how to use staffing as another key lever for personalizing learning," said Thomas Arnett, a senior research fellow for education at the Clayton Christensen Institute. "The schools we visited and interviewed each have unique approaches that others can learn from."
Dive into these profiles for all the details of the teaching experience and the student experience in these schools, including how the schools have adjusted or built their facilities to accommodate their staffing models, and  how they fund their teachers' and teacher-leaders' pay. There's much here for district and charter network leaders to learn from!
Watch this spring for more cases and our analysis of common and promising elements from these schools innovating with staffing and blended learning to personalize instruction.