Note: The Opportunity Culture Dashboard has been updated. See the most recent dashboard results here.
22,000+ students reached by Opportunity Culture teachers, more than 800 teachers in advanced or team roles, $2 million in higher pay in one year alone, and more high growth and less low growth than other schools: These are just a few results from the schools in districts launching an Opportunity Culture. Public Impact's expanded, interactive dashboard on OpportunityCulture.org shows progress in the Opportunity Culture initiative.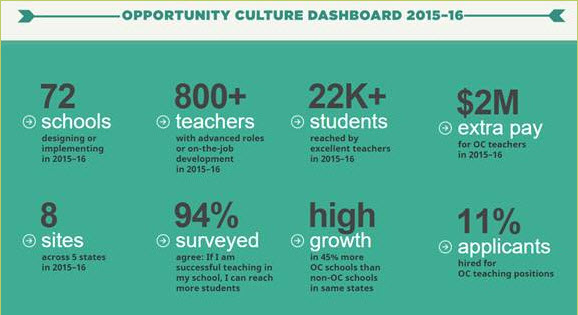 Opportunity Culture (OC) now includes 72 schools, either implementing in 2015–16 (51 schools) or designing their OC plans for fall 2016–17 (21). The initiative launched with 7 schools in 2013–14. More sites and schools are joining.
In the 35 OC schools implementing in 2014–15, we've already seen that 45% more make high growth and 46% fewer make low growth than other schools in the same states, even though most OC schools are implementing their new models gradually over two or three years.